Are you hungry? Hm, you must need this Bushi Sushi slot review! With this Microgaming game, you can unleash your inner sushi samurai.
With 5 reels and 3 rows, this Japanese-themed video slot is as simple as it gets, with 10 paylines. Wild symbols, Scatter symbols, Coin Gamble, and Free Spins are all part of the raw action.
If you're a newbie or casual player who is searching for a relaxing video slot, Bushi Sushi could be the right choice for you. If you're hoping for a more hard and fulfilling experience, you'd be better off looking elsewhere.
Best Bushi Sushi Slot Review
Bushi Sushi by Microgaming offers a taste of Japan to your screens. This time, the supplier has chosen a simpler game that is geared towards beginners and casual players.
Bushi Sushi takes a lighthearted approach to the subject. The slot boasts a slew of sushi-themed Japanese characters who swing into your reels to provide fantastic bonuses and payouts.
However, does Bushi Sushi make the grade, or is it just another flimsy video slot? To figure out the odds of winning, read our complete review below!.
1. The Overview of Bushi Sushi
Bushi Sushi is a game that was released by Gold Coin Studios and will be accessible as a Microgaming-exclusive slot machine. It will be easily accessible because of its reduced volatility, and it will have a sushi-themed design using Japanese delicacies as symbols.
It is a five-reel, three-row slot with ten paylines that pay both ways. It's a low-medium volatility game with an RTP of 96.06 percent and peak payouts of up to 800 times the bet. Wilds, mega symbols, scatter symbols, and free spins are among the key features.
2. Betting and Prizes in The Game
You can bet as little as $0.10 every spin and as much as $300 per spin. Line bets of up to $30 appear to be permitted based on the lines available.
In Bushi Sushi, there aren't any truly significant rewards to be had. Although 800X the stake isn't particularly high for a slot machine, it's adequate for the type of variance we're dealing with here.
It's regarded as a low-medium risk and volatility title, making it accessible even to beginners. At 96.06 percent, the RTP is adequate.
3. The Bonus Features
In this Bushi Sushi slot review, Microgaming and partners Gold Coin Studios have chosen a collection of simple video slot elements to keep you occupied while you spin your way through tons of sushi symbols without overcomplicating the formula.
Wild Symbols
Wild symbols will help players in forming or enhancing winning combinations. Furthermore, when these Wild symbols appear on the reels, they grow to span the entire reel and release a sushi samurai who will chop his way to a winning combination.
Scatter Symbols
Scatter symbols, which are represented by a sushi ying-yang symbol, activate the game's Free Spins feature. To enter the game mode, players must have at least three symbols, while additional scatters can result in up to 40 free spins.
Free Spins
The Free Spins mode is straightforward. It follows the same rules as the gameplay and lets you extend your bonus streak by hitting more Scatter symbols and triggering more spins. Although something a little meatier on this dish would have been intriguing, it's a basic implementation of the popular idea.
Coin Gamble
Players can choose to slip a coin at any time and have a 50/50 chance of doubling their winnings. You will be rewarded handsomely if you make an accurate prediction.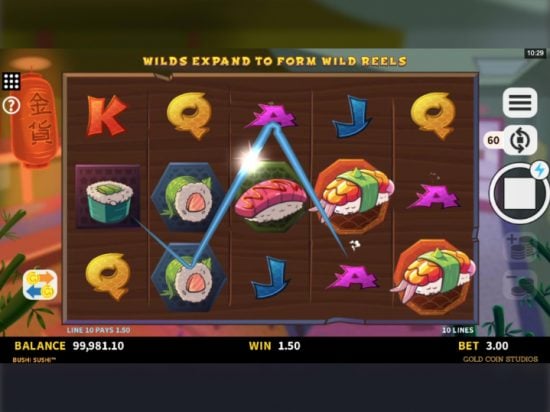 4. How to Play Bushi Sushi
Players should locate and click on the pointer on the right side to begin playing the Bushi Sushi slot. You'll discover two squares beneath this button that will help you keep track of your total stake.
You can begin by selecting a coin size, which ranges from $0.10 to $200. The next step is to select the number of coins per line, which can range from one to six. As a result, the total bet can range from $0.10 to $300.
In the base game, there is also an auto-play button on the main screen. This time, you may set the amount of auto-play spins (between 10 and 100), as well as the loss and single-win limits.
Click on the three lines to see the paytable and check out the symbols, payouts, and features. On the left side, there's a question mark that will reveal the game rules.
5. Where to Play Bushi Sushi
You can play this slot on Scientific Games which is the innovation cabinet slot. You can play Bushi Sushi safely with your mobile phones. Yes, you can keep spinning Bushi Sushi's reels! Playing the slot on your phone or tablet is a breeze thanks to the game's full mobile compatibility.
6. The Theme and Design
This real money slot and the Japanese food inspired design are inspired by sushi food and a blend they've created with the word Bushido.
The top earning positions include a mix of four varieties of sushi rolls, with the top one paying 40x the stake for a combo.
The emblems of little value will be given to you by four Royals. The feature will be triggered by another Sushi roll with the Wild logo and a Yin Yang logo as a scatter.
They did an excellent job building a slot machine devoted to sushi cuisine, and those who appreciate it will certainly enjoy the game as well.
To conclude Bushi Sushi slot review, it isn't the most visually stunning Microgaming slot; it doesn't have the massive jackpot possibilities of Mega Moolah or the stunning graphics of Avalon II, but it's also not attempting to be. This is a slot that is all about having a good time, and it succeeds admirably.
Victories aren't large here, but they're common enough to keep players happy. Playful, amusing, and with a respectable hit rate, wins aren't huge, but they're regular enough to keep players happy.
This slot should appeal to beginners in particular, thanks to its fascinating design and simple features, such as expanding wilds that appear frequently and free spins that are never far away. Today, try your luck at a top-rated casino!. / Dy
Read More: 3 Important Things to Know Scientific Games Competitors